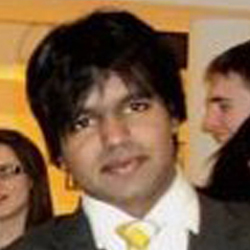 e:
ss740@cam.ac.uk
t: 01223 748480
w:
http://www-g.eng.cam.ac.uk/photonic_comms/files/cps_groupmembers_page.php?crsid=ss740
---
Sithamparanathan SABESAN joined CPS in 2007 to study for a PhD on the subject of 'Passive RFID real time sensing system for intelligent infrastructure'. Prior to joining the group he received a BEng in Electronic Engineering at Sheffield University and worked as a student IP Electronic Engineer at ARM, Cambridge. He is currently a Research Associate in the Group and has worked on the TINA and PULSE projects. His research interests include wireless communications and radio over fibre. From 2009 Sabesan was elected Chairman of Institution of Engineering and Technology (IET) Cambridge younger members committee, a member of the Staff-Student Joint Committee at the University and MCR Cricket Captain in Corpus Christi College, Cambridge. Amongst his other achievements, Sabesan was a winner of The UK ICT Pioneer of Connected World Award 2011, The Royal Academy of Engineering ERA Foundation Entrepreneurs Award 2011 and the Sir William Siemens Medal. He received funding from the Cambridge Commonwealth Trust, Corpus Christi College Scholarship and EPSRC (TINA and Boeing) Studentship to pursue MPhil and PhD at Cambridge University. Sabesan holds a junior research fellowship at Girton College.
Sithamparanathan Sabesan is (or has formerly been) affiliated with Cambridge University and Centre for Photonic Systems, University of Cambridge.